Creating a DIY equestrian brand doesn't have to be expensive. In fact, you can take a stab at building it yourself. Because let's be real. It can be hard to invest in professional design when your equine business isn't making money. In this article, I'm going to give you 5 free tools you can use to build your DIY equestrian brand.
I've used (and continue to use) more than one of these tools in my design business, and you'll find them helpful. So let's get into it.
One of the biggest hang ups when you try to build a DIY equestrian brand comes with creating a suitable color palette. In a perfect world, you'll design an entire palette around your target audience. You'll spend time researching color theory and figure out how to invoke emotions. And then, you'll choose options based around that.
But let's be honest. If you're doing it on your own, you don't have the time or patience to do that. And that's where tool #1 comes in handy. Colormind.io is a free website that will help you generate stunning color palettes. It will spit out options that work well together, and even give you the option to customize one or more colors. Once you find the perfect palette, you can grab the hex codes and use them for your future brand and website needs.
My favorite thing about this color palette tool is that it gives you suggestions on how to use the new palette. These suggestions aren't always perfect, but they can serve as a fantastic starting point.
You know those beautiful fonts that you see all over Instagram and Pinterest? You can find a ton of them (or similar looking ones) on DaFont. DaFont is a free website that offers a catalog of typefaces that you can use for your logo, website, or branding. This is one of my favorite places to check for font options. I've spent more than a few hours browsing the site to find hidden gems.
One thing to keep in mind is that you need to make sure you check the license for any fonts you decide to use. While all are free to download, not all are free to use in your branding. My suggestion is to filter the fonts for "100% free" options. You can do this using the search bar at the top of the page. The fonts that come back under this option will be available for use of any kind (which is important).
While custom photos are ALWAYS better to use, sometimes you need a few stock options. This is usually the case when you're getting started on your equine business – and that's fine. You can use Unsplash to source stock photos that are 100% free to use on your website and social media. There's a wide variety of options available, all which you'll find using the search feature. You can even create a profile to save photos in different collections. This is pretty handy if you're like me and enjoy avoiding a giant mess of photos on your computer.
If you can't find photos that you like on Unsplash, there are a few other free stock photo websites that you can use:
This one's not new – but it's important! Canva is a great asset for you if you're planning to build your own brand. You can use it as you would Adobe Illustrator or Photoshop. You can
easily
create a text based logo, social media posts, and more while using this super easy tool.
As a word of caution, I would recommend avoiding the free Canva logo templates.
In my opinion
, you're better off creating a simple text-based logo. Many of those templates get over-used and won't help you to stand out from your competitors in the industry.
Adding cute icons or illustrations can help your brand stand out. With the help of FreeIcons, you can choose from a large library of free icons and illustrations to use. There are quite a few cute horsey-icons that you can use for Instagram posts.
FreeIcons also offers paid icons and illustrations, so you do have paid options. If you want to stick to the free versions, there's an easy filter option that will only return those in your search.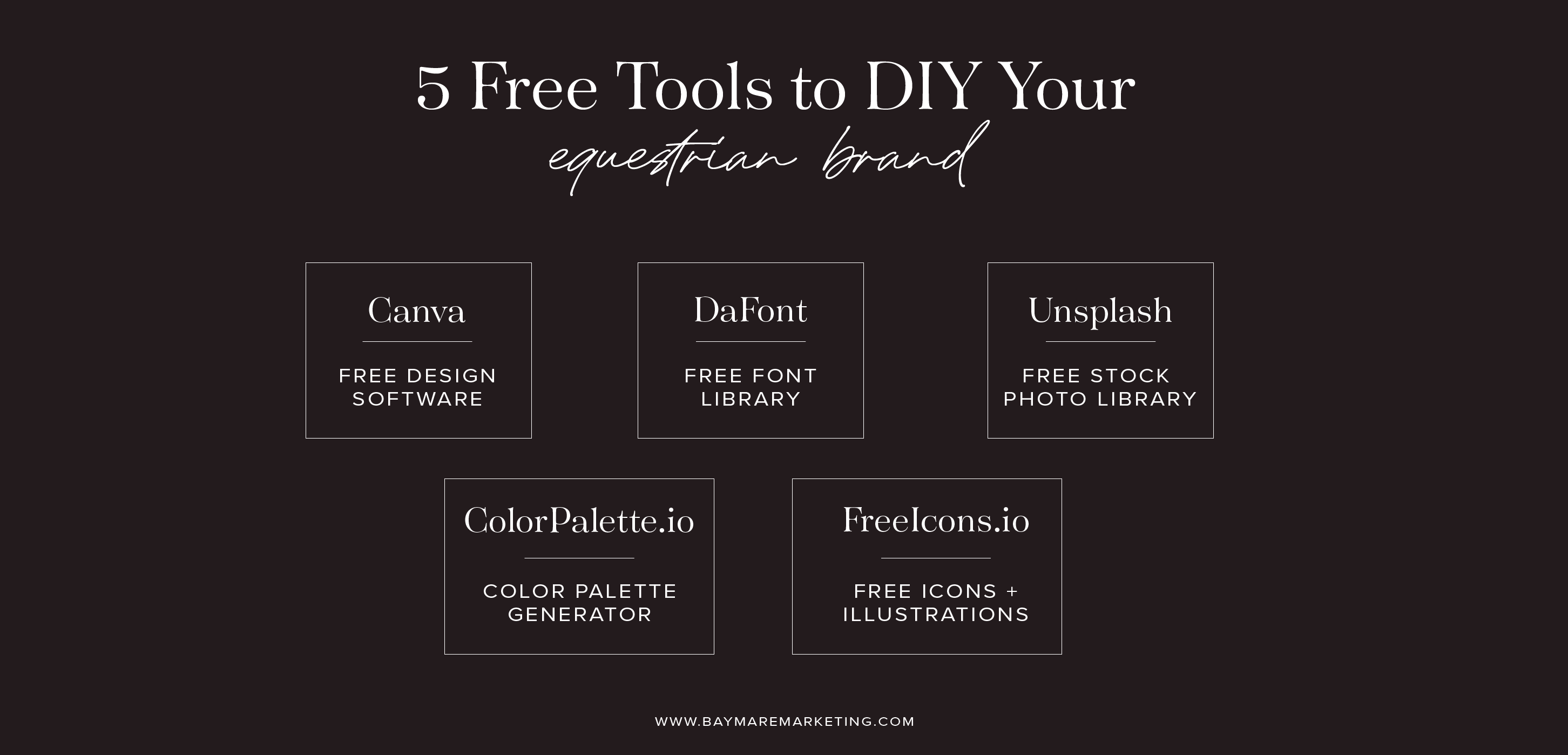 Build a DIY Equestrian Brand on Your Own
If you're on a budget, you can use the tools listed above to create your own beautiful equestrian brand.
These tools will give you a color palette, stunning font options, free photos, an easy-to-use graphic tool, and fun icons to elevate your new brand
. They will also help cut down on any frustration that you may find when trying to create something on your own.
And keep in mind that your brand will continue to evolve as your equestrian business grows. Branding can change, so don't feel your initial logo design or branding assets will need to be 100% perfect. My suggestion is to create something simple and unique, rather than popular or trendy. The goal for any brand is to stand out from their competitors, rather than blend in.
If you have questions about any of these tools or want to learn more about how to build your equestrian brand on your own, shoot me an email
. I'm always happy to talk branding + give you any tips that you'll find helpful on your journey.