Once you take the leap and start your own equestrian business, you quickly realize how important it is for you to have an online presence. Having a successful online presence can increase your new client inquiries and help you grow your new business. Because we all know that clients are the most important part of any equestrian business.
Getting your new equestrian business set up online can feel overwhelming. There are so many different things you need to do – create a website design, start social media accounts, and figure out how to pop up on search engines with SEO. In this post, I'm going to walk you through the steps and tasks you need to learn how to start an online presence for your equestrian business.
Create Your Equestrian Business Website
First things first – creating a website should be the first step for any new equestrian business. Not only is it key to helping clients find you online, it's also important for the credibility and trustworthiness of your brand. A website will serve as an online employee that can help provide helpful information to your potential clients at all hours of the day.
If you're planning to create your own website, there are a few different options and platforms for you to choose from. For those up for a little bit of a challenge with a great reward, I recommend using WordPress and Elementor. You can find very inexpensive hosting plans and build out a beautiful, well-functioning website that will grow with your business. If you'd rather choose something quick and easy and don't necessarily care about future website growth, Squarespace might be a good fit. 
When working on your website, try not to get too caught up in the design or look and feel. It's important, of course, that it looks professional – but you might find yourself spiraling if you try to get too creative. Choose something simple that can easily convey the information your potential clients will be looking for (services, pricing, and your contact information).
After your website has been set up, you should create an email account specifically for your business. I usually recommend a professional email address (email@yourdomain.com), but a simple Gmail account will work if you're wanting something free. Try to keep any email address you create professional and relevant to your business name (sporthorses@gmail.com). Make sure that you use this email address on all of your online accounts, including your website and social media platforms.
Having a dedicated business email will help set you up for success as your business grows. Not only does it help you look more professional, but it can also help you stay organized. Trying to manage personal and client emails in one spot can be a hassle, and a great way for important things to get lost.
Create a "Google My Business" Listing
If you've ever searched for a restaurant or shopping center online, you've probably found a Google My Business listing. These listings house things like your contact information, location, services, and even reviews. When you create a listing for your equestrian business, you're increasing your online visibility while also coming off as a professional within the industry.
Creating your account is super easy. You will need a Google account before you can set up your business information. Google has a super easy tutorial that you can follow here. It's really important that you fill out all of the information requested accurately.
Setup Your Social Media Profiles
One of the best parts of an online presence is social media. This is where you'll have an opportunity to connect with others in the equestrian community. You'll find other business owners and potential clients that you'll enjoy getting to know. These platforms will also be helpful for you to share valuable information about your equestrian business and industry knowledge.
Before setting up your accounts, you should decide which platforms you plan to use. I don't recommend setting up accounts on all of the platforms unless you know that you can keep them active. If you're not sure, it's usually best to start with one or two. My go-to platforms are always Facebook and Instagram, but it will vary based on your business and your target audience.
When you're creating your accounts, try to keep your usernames consistent so that it's easy for people to find you. If your desired name isn't available on a certain platform, do your best to find something similar.
Optimize Your Website for Search Engines
Now that you've made it through the setup process for most of your online accounts, you can dive a little deeper into your website. I always recommend that you optimize your website for search engines. This will really help you increase your online visibility and grab the attention of potential clients and customers.
If you're new to search engine optimization, you can start with the basics. Make sure that every page on your website has a relevant title and meta description. The steps to doing this will differ based on the website platform that you've chosen. If you're on WordPress, you can follow this helpful guide to setting up your site for SEO.
Connect All of Your Platforms Together
Once you have everything set up, you'll want to make sure that they are all connected together. You can start by adding your social media and Google My Business links to your website. It's best to include these in the header (the top) or footer (the bottom) of your website. Your social media accounts should always link back to your website. Try to avoid using a free "link in bio" service. This drives traffic away from your website, which isn't great. You can create an easy Instagram link page on Elementor with the help of this tutorial.
Bonus Tip: Start Blogging on Your Equestrian Business Website
Now that you've learned how to start an online presence for your equestrian business, you can get started running your business! One important task for all equestrian business owners is marketing. An easy way for you to market your business online is to start blogging on your website. While slightly time consuming, this can be a great way to share knowledge and free value to potential clients online.
Any content you create on your website can easily be repurposed and shared on your social media platforms – which can be a great way to help you stay consistent. It's been proven that business owners who blog regularly have a higher income than those that don't, and there are tons of reasons why.
Blogging and sharing original information online sets you apart from the competition by setting you up as an industry expert. Clients are more likely to trust and purchase from you if they see that you know what you're talking about. When you blog online, you're also offering free value and information. If you provide helpful articles that solve your client's problems, they'll be more apt to want to purchase from you in the future.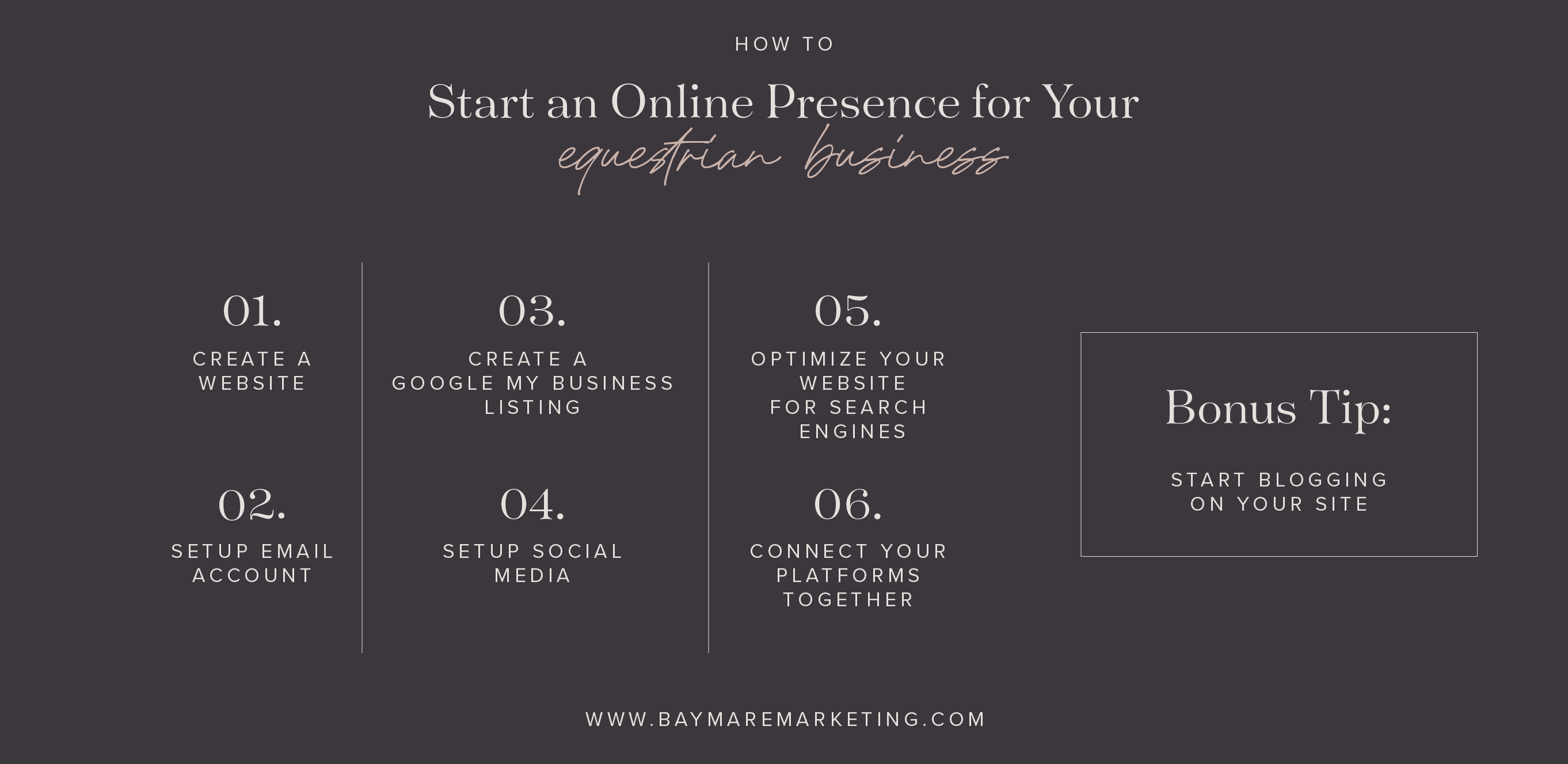 An Online Presence is an Important Part of Your Equestrian Business
Going through the steps outlined above will help you learn how to start an online presence for your equestrian business. You'll be setting the groundwork for future success by increasing the chances of clients finding you online.
While your online visibility is important, it doesn't replace traditional marketing. You should still plan to share your business with friends and family to get the word out.
Do you have questions about creating an online presence for your equestrian business? Let's talk about it! I'm happy to help you with free advice or suggestions. Send me a message on Instagram or shoot me an email, and let's chat.